Support Operations
Materials Management
Materials Management is responsible for the procurement of service and materials used by the Facilities organization in the operations and maintenance of the University's physical plant. This is accomplished through sourcing and stocking materials, bidding, auditing and managing vendors to ensure the University is being provided a quality product for the best price.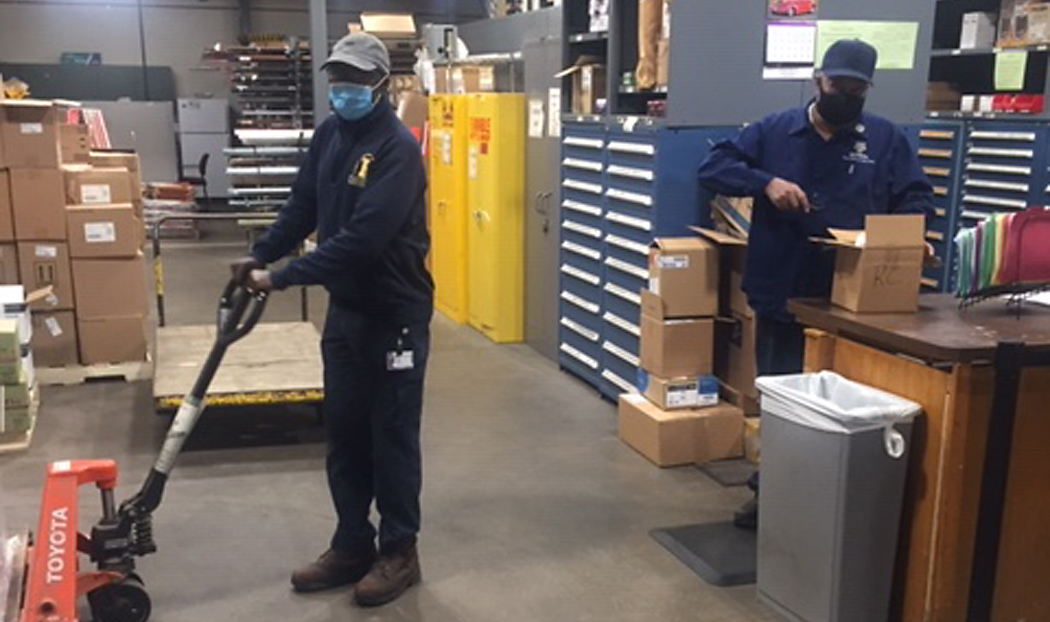 There are three conveniently located warehouses: one on the River Campus, one at the Medical Center, and one in the Central Utilities plant.
BASIC PURCHASING
Research the part or service you need. Stock parts can be found in the Parts Catalog
Create a Purchase Requisition (a work order number is required).
Send quotes and/or justification to the Materials Management department.

PReq goes through approval process and once approved, Materials Management places your order with an approved vendor.
More complete purchasing details are available in our 'Purchasing Basics' document (see link below).
To request a new part be stocked, please fill out the Stock Part Request form.
Related Links
Purchasing
Vendors/Suppliers
Miscellaneous
FAQs
Invoices should be sent directly to the Materials Management office for review and approval before they are sent to AP. E-mailing the invoice is the preferred method of sending invoices to Materials Management. There are three separate locations to send the invoice:
There are three types of purchase orders that are created from purchase requisitions.
The first type is called an "I" PO. This is 6 digits followed by a –I. These must be under $1,000 and can be for material or for a repair being done off site. It cannot be for service done on-site or for any order over $1,000.
The second type is called a Standing PO and it has the release number with it. These are vendors that have been set up with a purchase order through University Purchasing. Each purchase requisition generated is turned into a release number against this standing purchase order. Many times there are established labor and material markup rates for PO's. Standing purchase orders are for vendors that are used frequently.
The last type is where the purchase order number must be created by University Purchasing. These are requisitions that do not fit into either of the first two types. The PO# starts with 'PUR' but does not have a release number. Since these have to go to University Purchasing it can take a few days to get the PO#.
There are two ways
The first is to search through our on-line Parts Catalog
The second is to search through Famis on the Parts screen.
MSDS sheets for all stock parts are in Famis on the parts screen as an attachment and are also in the on-line
Parts Catalog
.
Yes there is. Fill out the
Purchasing Rush Form
and submit with your paperwork and we will get it to Purchasing.
Through the bid process which identifies the most competive Time and Material rates for various commodities such as electrical service, mechanical service, etc. on a regular basis.
Any University department that has a University owned or leased vehicle can get gas. Personal vehicles used on University business cannot get gas here.
University owned or leased vehicles are eligible for a gas chip, about the size of a half dollar which is either attached to the vehicle or to a plastic hang tag. Each time you come to get gas you must scan the chip which authorizes the pump to dispense fuel. Each vehicle can be set up to require the mileage reading or hour meter reading be entered each time so you can track your miles per gallon.
Your department must fill out the
New Vehicle Info Sheet
with all relevant information, including an account number to charge and submit to Materials Management. An ID# will be assigned to the vehicle.
On or before the 28th of each month all fueling transactions for that month are downloaded. A summary sheet is sent to each department with a listing of all gas transactions for that month.