Mail Operations Center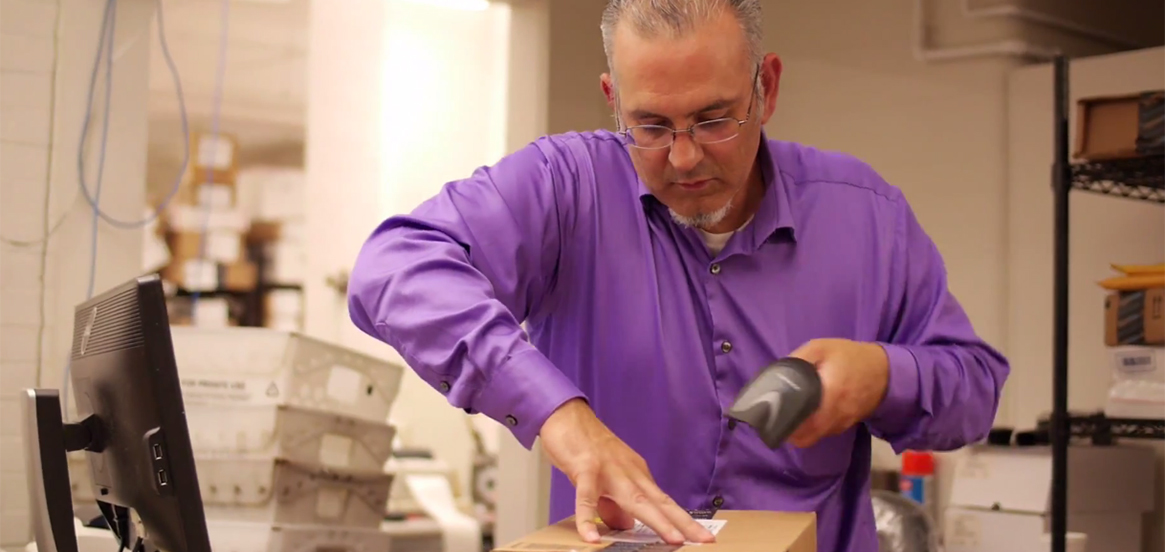 Located on Mt. Hope Avenue, the Mail Operations Center is the University's main mail processing facility where all incoming USPS mail for Zip code 14627 (River Campus) is received. The Mail Operations Center processes all departmental outgoing mail and bulk mailings for the entire University including: the Medical Center complex, River Campus, South Campus, Eastman School of Music, Memorial Art Gallery, Highland Hospital, Visiting Nurse Service, and the Mt. Hope properties. It is also the hub of the University's intramural system linking all of these areas. University Courier Services transports all intramural mail from the Mt. Hope facility to departments and complexes throughout the University.
Bulk Mail
Mass mailings continue to be an efficient way to recruit new students, market medical services, distribute information, and solicit donations. However, if done improperly, it can also be very expensive. Mail Services staff are recognized local leaders in bulk mail processing and can help customers get the best postage discounts, lowest processing costs, and fast turnaround times; they can help generate as much as 30%-40% in postage savings. Experts in nonprofit mailings, services include:

Database Processing
De-duping Lists
Word Merge/Variable Data Printing
Printing: Color, Black & White
Folding
Labeling
Inserting
Tabbing (Wafer Sealing)
A number of design and processing elements are needed for a mailing to qualify for special rates. We recommend the first step in producing your bulk mailing would be to contact University Mail Services at x5-1013 and consult with our mailpiece design experts
More information on Bulk Mail processing and Nonprofit eligibility is available at the following links:
What is Bulk Mail?
Officially called Standard (A) mail by the United States Postal Service (USPS), bulk mail isn't just "a lot of mail". It is an official classification of mail that meets specific requirements to qualify for discounted rates. Rates are dependent on content, size, shape, weight, Zip code, and quantity.
There are two types of Standard (A) mail, Regular (commercial) and Nonprofit. Except for certain content restrictions, both kinds are virtually identical, with Nonprofit rates being about 40% lower than their commercial counterparts. The University is eligible to send most of its mass mailings at Nonprofit rates.
There is a third kind of bulk mail, Presorted First-Class which is a discounted mailing but with First-Class service. Postage is significantly higher than Standard (A) and content and preparation can be much different as well. In most cases Presorted First-Class is delivered faster than Standard (A) mail, but locally they there is virtually no difference.
Sending Nonprofit Mail
Bulk mail is the least expensive method of sending mail. The average Nonprofit letter can be mailed for approximately $0.18 or less instead of the First-Class price of $0.49. The following specifications must be met for items to be mailed at bulk mail rates:
Minimum of 200 pieces or 50 lbs. total weight
Each piece of mail must be identical in:
- size
- shape
- weight
- contents
- address labels or imprint type
Each piece of mail must face in the same direction in preparation for postage
Each piece of mail must contain a Zip code in the destination address
Nonprofit Rate Restrictions
Just because it is being mailed from the UR doesn't mean every mass mailing can automatically use Nonprofit rates. Mailings cannot contain details (prices, destinations, payment plans, specific vendors) for travel, financial instruments (credit cards), or insurance. Also, it cannot contain personal information such as grades, medical results, billing details, or other person-specific details. You can personalize the mailing (Dear John, Dear Mary, and address) without violating the personal information rule.
Database Processing
For any mailing that uses postage discounts (Presorted First-Class, Standard A, Standard A Nonprofit) the USPS requires that the mailing list be processed by certified software that is updated on a regular basis. This computer program checks the addresses of the mailing list and compares them to the USPS's own database to make sure that the address actually exists. It does this by seeing if the named street has the specific house number, in that city, state and Zip code. Many simple typos are fixed this way. In addition, the mailing list is also compared to the National Change of Address (NCOA) database to see if any of the addresses have a forwarding order in effect. Using the updated address is also a postal requirement.
Database processing also allows addresses to be grouped by distribution locations (not necessarily in Zip code order) making mail processing, and receiving postage discounts, much easier.
Data Files: Mail Services can accept a number of file formats but Excel is by far the best and easiest to work with. However, other options including ASCII or Word tables, *.csv files, or comma delimited text are also acceptable. Data should be in tables with headings (FNAME, LNAME, ADDRESS1, etc.) rather than in a label format.
De-duping Lists: Specialized mailing software is used to help merge different mailing lists into a single combined one and eliminate duplicate addresses and recipients. This can help reduce the amount of materials that need to be purchased and printed, as well as the amount of postage to be paid.
Printing/Copying
Onsite printing has been increasingly important as personalized contents of mailings have become more common. Being able to print the inserts in the exact quantity, and in the same order as the outer envelope, allows for a more secure and economical process. Also, printing/copying does not need to begin until after the database is processed so that only the exact amount of material is produced, reducing waste and expense. Printing on-site also shortens the turnaround time by allowing additional processing, such as folding and inserting, to begin as soon as the first printed pieces leave the printer.
Word Merge/Variable Data Printing: Personalizing mail pieces is an excellent way to increase the success of a mailing. Variable data can be added to fixed text to create custom content for every recipient. Some examples are as simple as adding "Dear John" or "Dear Mary" instead of "Dear Prospective Donor". Mail merge programs are used to create letters, pledge cards, and business reply mail. Other examples could include switching out entire paragraphs of content depending on who will get that letter. Personalized URLs, QR codes or images can also be added to the outer envelope.
Color Printing: Color printing is available to add interest to the content of the mailings as well as to improve the appearance of the outer envelope. High quality digital images in many formats are acceptable with excellent results.
Labeling
Once the address list has been cleaned-up, processed, and formatted, it is uploaded to the production labeling machines where addresses are printed directly onto the mailpiece. Up to 10,000 pieces per hour can be addressed using scores of different fonts. Any True Type font used in the mailpiece design can be uploaded to the printer to provide a cohesive, unified look even in the address block.
Generally speaking, the maximum size mailpiece that can go through the production labeler is 12"wide and ¼" thick, but length is rarely an issue. All items must be of uniform thickness.
Address Block: At minimum, an area of at least 2" high x 4" long should be reserved for printing the delivery address. Anything smaller and not all of the address can be printed, or it will be too small to be read. The address block should also have a white background, be free of images and uncoated.
Fonts: Our labelers can print with scores of fonts, but keep in mind that addresses need to be able to be read by the USPS sorting equipment. Cursive or script fonts are very difficult to read so should be avoided because they can result in higher postage costs, longer delivery times, and higher Return to Sender rates.
Contrast: Postal equipment needs to be able to read the address for it to be delivered, so it should have a high contrast against the background color. Mail Services uses black ink to print addresses so a white or very light background is recommended. We have no source for white ink to print against a black or dark colored-background.
Adhesive Labels: Adhesive labels are sometimes necessary, but usually only when:
a) the item is so glossy that ink won't stick to the surface;
b) the mailpiece is enclosed in shrink wrap;
c) the size, thickness, or shape of the item won't allow it to fit through the envelope feeder; or,
d) the mailing address can't be seen against the printed background.
Processing costs are significantly higher than printing the address directly onto the mailpiece.
Folding
Items are generally folded to be inserted into envelopes, or to become self-mailers. Folding is a very basic service, but, done wrong, can lead to considerable expense and delays. The main issue involves where the folds are placed.
Inserts: Items folded in such a way that when they fed into the inserter or labeler they are not pulled open or crushed. Therefore, the fold should be on the leading edge (the first part of the mailpiece to go into a feeder). Half-folds and "C"-folds work very well. Accordion or "Z"-folds, have an open leading edge (with a fold and an extra flap) and get pulled open by the rubber feeder rollers. Other types of folds may make hand-inserting necessary which will increase processing costs and extend the turnaround time.
Tabbing
Tabs, also called wafer seals, are used to keep self-mailers or booklets closed while they travel through the mail stream. The exact quantity and placement of tabs is strictly defined by the USPS. Self-mailers have different tabbing requirements than booklets, which generally require more wafer seals. Tabs can help lower postage costs, but sometimes the cost of applying the tabs is more than the postage savings, so work with our bulk mail staff to decide which tabbing options are right for you and your budget.
Self-Mailers: There is more leeway for how self-mailers are folded, but the USPS does provide incentives for having the fold on the bottom. Many folded self-mailers need to be held closed by tabs or wafer seals. This is to keep the mailpiece from opening up while being processed on the Postal Services processing equipment. By following USPS guidelines and creating self-mailers with a single fold at the bottom of the mailpiece, fewer tabs need to be used to keep the item closed. And the less tabs used, the lower the processing cost.
Meter Mail
Most of the correspondence leaving the University is metered mail. To use this option, departments can attach a mailing slip to the mailand have it delivered through intercampus courier routes to University Mail Services. We will attach the required postage and direct bill departments through our month end accounting entries.
Meter mail may include but is not limited to regular business letters, large envelopes, packages, etc. Metered mail must show the complete return address for the University office of origin on each piece. It must be mailable by the standards of the U.S Post Office.
Please note, personal mail will not be posted or paid for with departmental metered mail.
To order department meter slips, fill out a request at the following web address:
metermail_order.php
Intramural Mail
Intramural mail is delivered to the Universities internal departments including: the Medical Center complex, River Campus, South Campus, Eastman School of Music, Memorial Art Gallery, Highland Hospital, and the Mt Hope properties.
Don't have the time or resources to deliver your package or document quickly? Contact our Courier Services at x5-2001, they offer expedited pickup, delivery and signature confirmations for all of your important documents.