Support Operations
Horticulture and Grounds
The Horticulture and Grounds department maintains the University's outdoor spaces, providing landscaping and snow removal and reinforcing an environment that preserves the beauty of the campus. During spring, summer and fall, grounds crews are busy amending soil, planting, mulching, pruning, watering and addressing pest management. Winter months involve planning, plant and tree protection, and snow removal.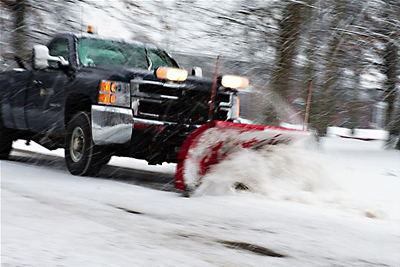 Grounds Management and staff are on call year round, 24 hours a day, seven days a week. In the winter, work schedules are adjusted to include an evening shift.
---
Place Service Request
273-4567
---
Snow Removal
Facilities snow removal staff are responsible for snow removal and/or salting at most onsite University campuses. Our mission is to make conditions as safe as possible, working to create adequate traction for pedestrians and vehicles during winter conditions.
---
Snow Removal Hotline
275-0000
---
Emergency access roadways and handicapped areas are serviced first. Sidewalks and roadways are plowed concurrently with the parking lots. Parking lots are generally plowed minimally during the normal workday (i.e. 6 a.m. to 5 p.m.) due to the size of the equipment and to avoid piling snow around parked vehicles.
Arboretum
Portions of the University of Rochester campus were established as the Arboretum by the president's planning group in 1999. The University Arboretum preserves the beauty of the University campus through a progressive program of grounds management, while supporting the study of native plant materials and developing new plant collections. The Arboretum provides opportunities for continuing education about the University and regional horticulture, celebrating our history while promoting interest and support in the present.
Awards
The University of Rochester Grounds Management team has received numerous awards over the years.

FAQs
Wear appropriate footwear, measure your steps, and use handrails during snowy conditions.
Park only in areas that have already been cleared by plow trucks.
NEVER pull up behind a plow and wait - the operator may not see you if they have to back up.
Use the Snow Removal Hotline (5-0000) to report any winter related condition that needs to be addressed.
Paved surfaces on onsite campuses include in excess of six million square feet of pavement. One inch of snow over these areas equates to 500,000 cubic feet of snow - enough to cover Fauver Stadium 11 feet deep!