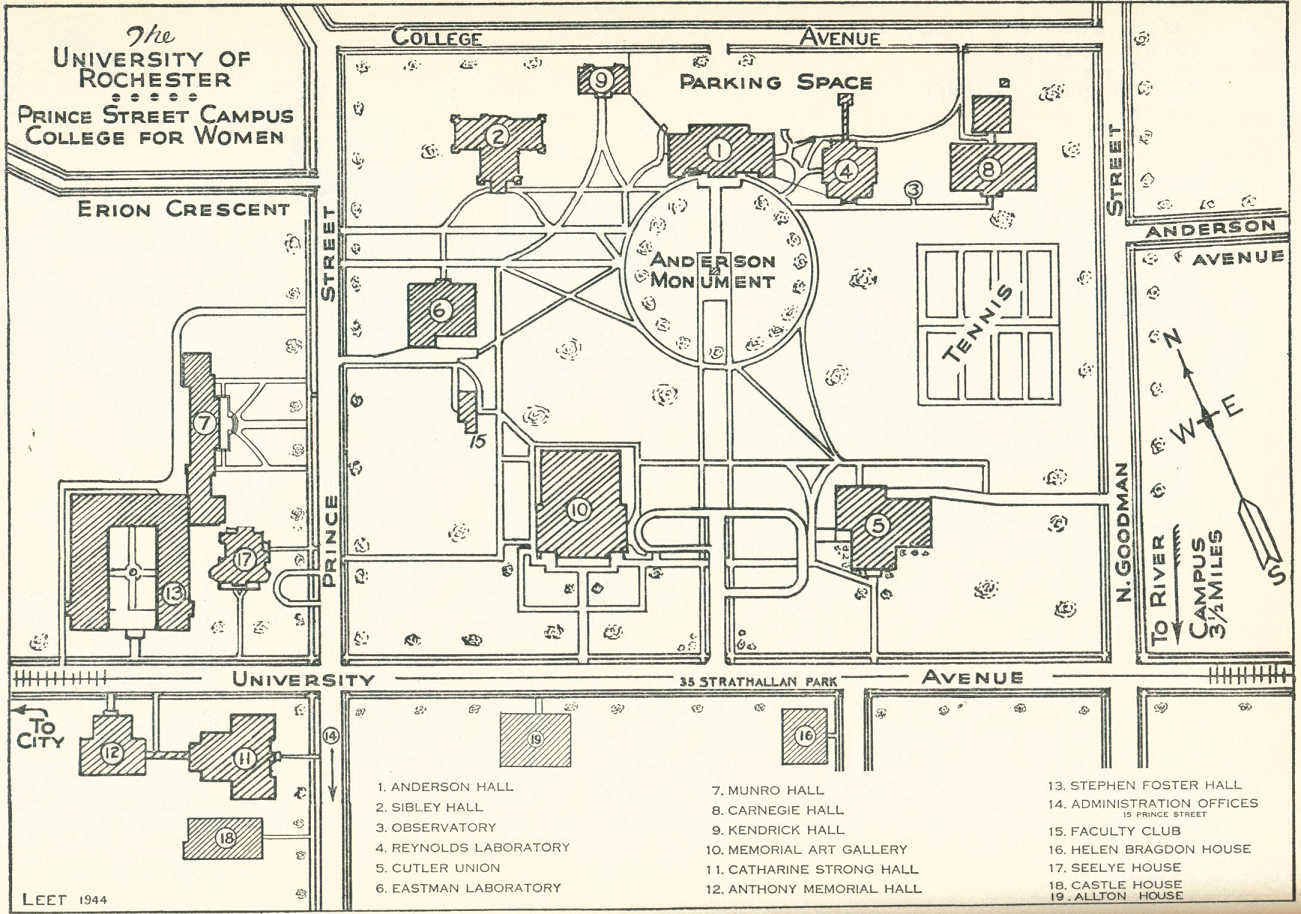 1952 Map of the Prince Street Campus College for Women, from 1952 Official Bulletin of the University of Rochester
| | | |
| --- | --- | --- |
| | | |
| 1904 Campus Plan Prepared by Heins and Lafarge | Tablet Honoring Land Donation from Mrs. Aristine Pixley Munn | 1955 Advertisement for sale of land and buildings |
The area was annexed to the city of Rochester in 1836. Azariah Boody donated 8 acres of land to the University in 1853 and sold another 16.79 acres for $16,790, which together comprised the Prince Street Campus. Boody also held a mortgage on the property. In 1913 land for the Women's College was given by Mrs. Aristine Pixley Munn of Gates, New York. A large athletic field was built at Culver Road and Main Street, scene of sporting events from 1917 until the opening of the River Campus, was leased in 1940 to Montgomery Ward & Company for a store and returned to the University when the lease was terminated (1950) by mutual agreement. This land was sold to the City of Rochester in 1953 and is now the site of East High School.
The College for Men moved to the new River Campus in 1930 and the women followed in 1955. Eastman School students moved a new downtown dormitory in 1989 and the old dorm became part of the City of Rochester's School of the Arts. The Memorial Art Gallery, including Cutler Union, remains the only University facility remaining on the property.
Horse car service on University Avenue began in 1881.
The campus was closed briefly in January 1918 to conserve coal and again in October due to the influenza epidemic.
1861 Anderson Hall
1868 President's House (Harriet Seelye House)

1876 Trevor Observatory
1877 Sibley Hall
1887 Reynolds Memorial Laboratory
1900 Alumni Gymnasium
1906 Eastman Laboratory
1911 Carnegie Laboratory
1913 | Memorial Art Gallery | Kendrick Hall |
1914 | Catharine Strong Hall | Anthony Memorial Hall | Culver Road Athletic Field |
1918 Student Army Training Corps Barracks
1919 Dossenbach-Klingenberg School of Music
1925-1926 Women's Dormitories
1933 Cutler Union
1939 Munro Hall
Residential buildings bought by the University
11 Prince Street


Conveyed to the University in 1951 by James Sibley Watson, Jr.


13-15 Prince Street
Administration Offices
Former Taylor house. Purchased in 1939 from the Rochester Academy of Medicine, sold in 1955.


21 Prince Street
Castle House
Former Sigma Delta Epsilon Fraternity. Sold to University in 1941, which opened Castle Hall, or the "21 Club" for fifteen residents and was the fifth cooperative dormitory. Sold in 1955 along with Anthony and Strong Halls.


40 Prince Street
Residence
Bought by UR around 1920, torn down before 1935.


41 Prince Street
Munro House
Formerly Psi Upsilon fraternity house built in 1893, bought by the University in 1930 for use as a cooperative dorm. Torn down in 1939 to allow construction of Munro Hall.


42 Prince Street
Dorm
Owned by UR until sold during the Civil War. Used by several groups during World War I, Bought by UR in 1922, used as Women's dorm, campus YWCA and various offices until torn down in 1939.


43 Prince St.
Dorm
Theta Chi house 1927, bought by UR in 1935 and and used as a dorm for six women, demolished 1939.


44 Prince Street
Isaac F. Quinby residence
Quinby retired in 1884 and died in 1891. The University acquired two of the three private dwellings on the Prince Street rim of the college grounds and made over (1922) the most northerly of them--once the home of Professor Quinby for use by the presidential and financial staffs and the alumni secretary. The building was used as administrative offices until it was torn down in 1939.


44 Prince Street (back)
Brown House
Faculty Club and Administrative offices. In the summer of 1924 the Club leased from the University a snug, brown-shingled cottage on the western edge of the campus and renovated it for club uses. Aside from being a center of social gatherings, the clubhouse served meals (1924: breakfast 35 cents, lunch 25 and 35 cents, dinner 75 cents) and supplied living quarters for six bachelors. Then, too, faculty wives, who had entertained undergraduates at a coffee hour one afternoon a week in Anderson Hall, moved the party to the more congenial Club environment. After the opening of the River Campus, the house was assigned to the Women's Faculty Club.


49 Prince Street
Delta Kappa Epsilon
Delta Kappa Epsilon moved from Alexander Street in 1918, bought by UR in 1930, torn down 1932


493 University Avenue
Allton House
Rented in early 1940s as as Eastman School dormitory, used in 1944 by College for Women as a dormitory for fifteen undergraduates. Purchased in 1948 from Mr. and Mrs. Fred W. Allton. Sold in 1955.


35 Strathallan Park
Helen Bragdon House
Former Delta Upsilon fraternity house, bought in 1930 as a cooperative dorm, sold in 1955.


References | Memorial Art Gallery Campus Map (January 17, 2019) |
1851 Plan of the City of Rochester, by Marcus Smith
Shows the property owned by Azariah Boody on Main (later University) Street between Alexander and Goodman.
1852 Azariah Boody elected to University of Rochester Board of Trustees, July 1852
1853 "University - Location," Rochester Daily Democrat, May 10, 1853, Page 2.
The Trustees will receive proposals for a site for the University buildings to-day, at the Library rooms.
1853 "University of Rochester - Location of Site for the Structures," Rochester Daily Advertiser, May 12, 1853, Page 2.
1853 "Site for the University Buildings," Rochester Daily Advertiser, July 15, 1853, Page 2.

1853 "Site for the University Buildings," Rochester Daily Democrat, July 16, 1853, Page 2.
1853 "University Lot," Rochester Daily Democrat, September 22, 1853, Page 2.
1853 Deed from Azariah Boody to the University of Rochester, September 1, 1853, $1.00, book 113, page 459.
8 acres.
1853 Deed from Azariah Boody to the University of Rochester, September 1, 1853, $16,790, book 113, page 460.
16.79 acres.
1853 Mortgage from the University of Rochester to Azariah Boody, September 1, 1853, $16,790, mortgage book 68, page 334.
1855 Map of the City of Rochester, by Silas Cornell
Shows University, Prince, and College streets
1856 Discharge of mortgage from the University of Rochester to Azariah Boody, September 2, 1858, Discharge of Mortgage book 21, page 96.
1862 Report of the Regents of the University on Military Instruction in the College and Higher Institutions of Learning, in the State, in Response to the Resolution of the Assembly of January 24th, 1862. March 7, 1862.
Pages 16-19: University of Rochester
1862 "Military Instruction in Colleges - The University of Rochester," Rochester Union & Advertiser, March 26, 1862, Page 2.
1881 "Aldermen in Session," Democrat and Chronicle, June 29, 1881, Page 3.
A communication from the Rochester City and Brighton street railroad company, asking for permission to lay a track on University avenue, from East Main street to Goodman street, was referred to the street committee.
1885 "Resolutions of Respect," Democrat and Chronicle, December 3, 1885, Page 6.
At a recent meeting of the Executive board of the University of Rochester the following resolutions were offered and adopted in honor of the memory of the late Hon. Azariah Boody:
The Executive board of the University of Rochester would express their profound regret at the decease of Hon. Azariah Boody, also their earnest and sincerely sympathy with his afflicted widow and relatives.
The board vividly recall to their minds Mr. Boody's generosity in the donation of eight acres of valuable land within the limits of the city now forming that part of the university campus upon which their buildings have been erected. They recognize this gift as especially memorable, not only for its value, but from the fact that it was conferred upon the corporation at the time when their endowment fund was inconsiderable and the university itself was by many looked upon as an experiment. The board would put on record their gratitude, not only for this gift, but also for Mr. Boody's services while a Trustee and for the confidence expressed in the success of the institution to whose foundation he was of the earliest contributors. M.B. ANDERSON, HIRAM SIBLEY. WILLIAM N. SAGE, Committee.
1885 Historical and Statistical Record of the University of the State of New York: During the Century from 1784 to 1884, by Franklin Benjamin Hough
Pages 433-438: Military Instruction in Academies
1888 Robinson's atlas of the city of Rochester, Monroe County, New York
Plate 5: Map bounded by Union St., E. Main St., College Ave., Goodman St., Brighton Ave., Union Park; University of Rochester
1890 Martin Brewer Anderson: An Appreciation, by Henry Clay Vedder
1891 Isaac Ferdinand Quinby (1821-1891) grave in Mt. Hope Cemetery
1892 Sanborn Fire Insurance Map from Rochester, Monroe County, New York. Volume 1 | Volume 2 | Volume 3 |
Volume 1 Plate 16: University of Rochester
1895 Papers and Addresses of Martin B. Anderson, LL. D., Volume 1, edited by William C. Morey | Volume 2 |
1895 Martin B. Anderson, LL. D.: A Biography, by Asahel Clark Kendrick, assisted by Florence Kendrick Cooper
1902 "The University of Rochester," The Scranton Tribune, May 31, 1902, Page 13.
1904 "Science Work at University," Democrat and Chronicle, October 4, 1904, Page 10.
1906 "Plan for Beautifying the Campus of University Will be Developed With Erection of Buildings," Democrat and Chronicle, March 4, 1906, Page 23.
1906 The University of Rochester: Its Story
1910 The University of Rochester : buildings and grounds | another copy |
1913 Deed from Aristune Pixley Munn to the University of Rochester, May 12, 1913, $1,00, book 895, page 462
Land for Women's College buildings, including Catharine Strong Hall and Anthony Memorial Hall.
1915 "Plan Auditorium as Complement to Art Gallery," Democrat and Chronicle, June 16, 1915, Page 15.
1918 "Student Corps Continues," Democrat and Chronicle, October 10, 1918, Page 15.
All schools of the city and the woman's college of the University of Rochester were closed yesterday in accordance with the ordered issued by Public Safety Commissioner Andrew R. Hamilton.
1918 "College Students' Army Corps Under Quarantine, Men Now Fully Enlisted," Democrat and Chronicle, October 15, 1918, Page 19.
An addition to the barracks is being constructed and the Alumni gymnasium is being used as temporary sleeping quarters for about eighty men.
1918 "In Regular Army at 78," Democrat and Chronicle, October 26, 1918, Page 18.
Lieutenant Colonel William Wallace Gilbert. Entered the army while a senior at the University of Rochester early in '61. One time professor of classics at the University of Rochester.
William Wallace Gilbert, Class of 1861, the nephew of Martin Brewer Anderson, Rochesterís first president, had a military career that spanned six decades and included the Civil War, the Spanish-American War, the Philippine Insurrection, and World War I, where he came out of retirement at age 77 to serve in a recruiting base in Texas
1918 "University Men Quarantined to Check Influenza," Democrat and Chronicle, October 30, 1918, Page 17.
1918 "University Senior Dies," Democrat and Chronicle, December 18, 1918, Page 16.
Death Removes Robert K. Dennison, Active in College Life.
Robert Kysor Dennison, a senior at the University of Rochester, died yesterday morning at the Homeopathic Hospital from infuenza. He was a member of the S. A. T. C. at the university.
1918 "University Unit to Demobilize December 4th," Democrat and Chronicle, November 28, 1918, Page 13.
Normal College life to be resumed in January.
U.S. Senator Kenneth Keating was a member of the University of Rochester Student Army Training Crops.
Student Army Training Corps Papers
1919 "University of Rochester in the World War," by President Rush Rhees, from Report of the President to the Board of Trustees, June 5, 1919
1919 War Service List, Supplement to Report of the President
1919 Annual Catalogue, the University of Rochester 1918-1919, April 1919
1919 Interpres Class of 1920
Pages 127-138: Military Life on Campus
1921 Interpres Class of 1922
Page 109: Fraternity house pictures
1922 "Old Campus Regains Its Own," Rochester Review, 1(1):7 (October 1922)
44 Prince Street, old Quinby residence now administrative offices. 42 Prince Street transformed into a girls' dormitory housing twenty students of the School of Music.
1922 "Dormitories for Woman Students Located in Prince Street Houses Linked with University's History," Democrat and Chronicle, September 28, 1922, Page 22.
42 and 47 Prince Street
1925 "University Rushing Construction Work on New and Old Campuses," Democrat and Chronicle, July 19, 1925, Page 32.
Art Gallery, Dormitory and Medical School Works Progressing.
1927 "U.R. Dormitory to Be Used for Classroom Work," Democrat and Chronicle, August 18, 1927, Page 15.
Extension Division to move to 42 Prince, a former girls' dormitory.
1932 "Second Co-Operative Dormitory to be Opened in Fall for Students of College for Women," Democrat and Chronicle, June 13, 1932, Page 17.
Former Psi-Upsilon house at 41 Prince Street.
1933 Cutler Union, opened September 1933
1935 "Larger Dorms Planned at U.R.," Democrat and Chronicle, September 18, 1935, Page 16.
One new residence for the women of the University will open at 43 Prince Street. The building, which was formerly the Theta Chi House, will accommodate six girls.
1939 "UR Remodels New Offices," Democrat and Chronicle, April 26, 1939, Page 19.
Former Academy of Science at 13 Prince St.
1941 "Co-op Dorms Reveal Gay History," Tower Times, October 3, 1941, Page 2 | Part 2 |
Hazel Wilbraham and the girls purchased Azarella, the cow for $75. Azarella gave 16 quarters of milk daily until 1932. At this time the second and third co-ops has been aded and our spirited physical education instructor wisely decided not to go into the dairy business and sold Azarella for $60.
1944 "Growing Prestige of Women's College Send Dorm Occupancy up 700 percent," The Rochester Alumni-Alumnae Review, 23(1):8 (October-November 1944)
Also in 1944, the Women's College has taken over Allton House in University Avenue, opposite the Art Gallery, to serve as another temporary dorm - the fifth of this type. Formerly used by Eastman School students, the house can accommodate fifteen students.
1951 "Watson, Hutchison Homes Given University; Dormitory Role Set for East Avenue Property, Rochester Review 12(4):22 (August 1951)
Watson home at 11 Prince Street
1952 The Sias family in America, 1677 to 1952; the first 275 years. From materials gathered through long and painstaking efforts by many members of the family, by Azariah Boody Sias
Pages 79-81: Jeremiah Kittredge Sias, b. May 4, 1804 in Derby, Vt.; d. Rochester, Minn. May 1, 1879; m. Dec. 6, 1828, Mary A. Boody of Stanstead, Canada. She was born at Sheffield, Vt., Dec. 14, 1804 and died at Brighton, N. Y., May 19, 1876, at her sisterís home, Mrs. Jonathan Nelson (Eliza A. Boody), where she was visiting. John Sias, father of Jeremiah Kittredge Sias, deeded Jeremiah the farm of 115 acres on the beautiful site overlooking Lake Memphremagog, Feb. 24, 1832, On March 18, 1851, Jeremiah Sias deeded this farm to Anson Shattuck and moved, with his family, to a farm near Rochester, N.Y., where his wifeís brother, Azariah Boody, was building the Falls Branch of the New York Central Railroad from Rochester to Niagara Falls. Azariah Boody later went west to superintend the rehabilitation of the Wabash Railroad and became president of the Wabash. He was elected to the 33rd United States Congress from the Rochester, N. Y. congressional district. Azariah was the son of Jonathan and Nancy (Evans) Boody and was born April 21, 1815 at Stanstead, Canada, just across the line from West Derby, Vermont, where Jeremiah Kittredge Sias was born. His family moved to Lowell, Massachusetts and there Azariah built, under contract, a bridge across the Merrimack River, and still later, under contract, in the same city, the Pawtucket Canal, which fed many of the manufactories of that city. He moved to Rochester, N. Y., where he became a prominent citizen, building the home on East Avenue, later known as the Powers Home. He gave, soon after the college was founded in 1850, the tirst campus for the University of Rochester at University and Prince Street, which was made the girlsí college in 1930, when the menís college was moved to the new Genesee River Campus. Azariah Boody moved in his later years, to New York City and lived at 8 West 58th Street, where he died November 18, 1885. The compiler of this genealogy was named after him in 1880.
Page 82: Portrait of Azariah Boody
Pages 86-87: Major General Elwell Stephen Otis, Class of 1858.
1954 "Smoke Goes Out as Steam comes In!," Democrat and Chronicle, October 31, 1954, Page 39.
1955 "University to Use Prince St. Campus for Eastman School," Democrat and Chronicle, February 7, 1955, Page 13.
1955 "This Land and These Buildings Now for Sale," Democrat and Chronicle, February 20, 1955, Page 9E.
1955 "Kendrick Hall Sold by UR for Use as Apartment House," Democrat and Chronicle, August 19, 1955, Page 21.
Also sold the Bragdon House at 35 Strathallan Pk., corner of University Avenue, and Allton House, 493 University Ave. The 65-year old Administration Building at 15 Prince St. has been contracted to be sold to Dr. Henry B. Crawford, physician, to be remodeled into nine physicians' offices. The university proposes to retain occupancy of that building until Nov. 1.
1955 "University Sells 2 More Buildings at Prince Street," Democrat and Chronicle, December 2, 1955, Page 37.
Anderson Hall sold to Dr. Aldolph F. Bastian for a general office building. Also 15 Prince Street.
1959 Architecture and architects of Rochester, N.Y., by Carl and Ann Schmidt.
Page 38: The house that stood at the northwest corner of University Avenue and Prince Street was built in the early 1850's by John J. Van Zandt. It was purchased by public subscription in 1868 as a home for Martin B. Anderson, first president of the University of Rochester. The home of several presidents, the last occupant was Dr. Rush Rhees.
The house was a frame structure of the Victorian Italian Villa type with very simple details, wide overhanging cornice and large windows. It was originally surrounded by four acres of landscaped grounds with a large pond for swans. It was demolished in 1953.
1970 "The History of the University of Rochester Libraries," by Catherine D. Hayes, The University of Rochester Library Bulletin 25(3):59-122 (Spring 1970)
1977 History of the University of Rochester, 1850-1962, by Arthur J. May. Expanded edition with notes
Chapter 6: A Critical Decade
A public spirited Rochesterian, Azariah Boody, gave the site problem a new twist when he offered in 1853 to donate to the University a parcel of land called Pitkin's Woods. It was well to the east of the center of the expanding city, and it became the core of what was called in 1930 the Prince Street Campus. Previously, Boody had agreed to hand the tract over to a newly-organized Barleywood Female University, of which he was president of the trustee board, on condition that an educational building worth at least $16,000 would be constructed by June, 1853. That specification had not been implemented; in fact, the Barleywood undertaking had mysteriously collapsed. To the University Boody proposed to donate eight acres, two more than he promised to the Female College, but a plot of the same shape and location.
The Boody property was described as "a high, level piece of ground in a salubrious district, which within a few years has become a favorite location for the residences of some of the wealthier citizens" of Rochester. Handsome ornamental grounds, it was pointed out, surrounded a cluster of elegant buildings "and the area possessed all the delightful characteristics of a suburban rural landscape." Yet the distance from downtown Rochester posed a very real drawback.
The trustee committee repeatedly inspected the various sites that were proposed, debated at length the comparative merits of a city or, suburban location, costs, and the like. On recommendation of the committee, a majority of the trustees voted on July 14, 1853, to accept the Boody proposition, Wilder, Sage, and two other trustees dissenting. Additionally, a decision was taken to purchase from Boody land to the south adjoining his gift; for this parcel of nearly seventeen acres the University paid $1,000 an acre, a quarter in cash and the rest covered by a mortgage.
The deed conveying the eight acre donation, valued at $10,000 as a minimum, prescribed that the property should "forever constitute the site and grounds of the ... U. of R., and that the University shall erect and forever maintain thereon the buildings required... so far as said tract shall be adequate [and convenient] for collegiate requirements; a section of the land might be assigned to the Rochester Theological Seminary for a suitable building. In case the property should cease to be occupied by the University, "the same shall revert" to Boody or his heirs, the original deed read; but a second deed, dated 1871 but not actually recorded until seventeen years later, removed the right of reverter, so that the University might dispose of the property as indeed it did in 1955-1956. It was understood that Boody's cows might contentedly graze on the property, presumably until it was ready for academic uses.
All counted, the University estate of almost twenty-five acres had as its boundaries: Riley (later University) Avenue on the south, Boody or Prince Street on the west, about the present (1968) College Avenue on the north, and Goodman Street on the east. Speculators bought up real estate in the surrounding area and the way was opened for what came to be referred to as "the East Avenue colony."
1988 Magnum Opus: The Story of the Memorial Art Gallery, 1913-1988, by Elizabeth Brayer
2004 The Dandelion Fellow: Azaraih Boody By Rachel Thibo. REL 167: Speaking Stones Ė Prof. Th. Emil Homerin, Fall 2004 12/9/2004
Postcards from Prince Street Campus

Azariah Boody: Our Dandelion Fellow, by Melissa Mead
Azariah Boody Wikipedia Page
Azariah Boody from the Biographical Dictionary of the United States Congress
Heins & Lafarge Wikipedia page

© 2021 Morris A. Pierce