| | |
| --- | --- |
| Medical Center | Emergency Department Expansion and New Patient Care Tower |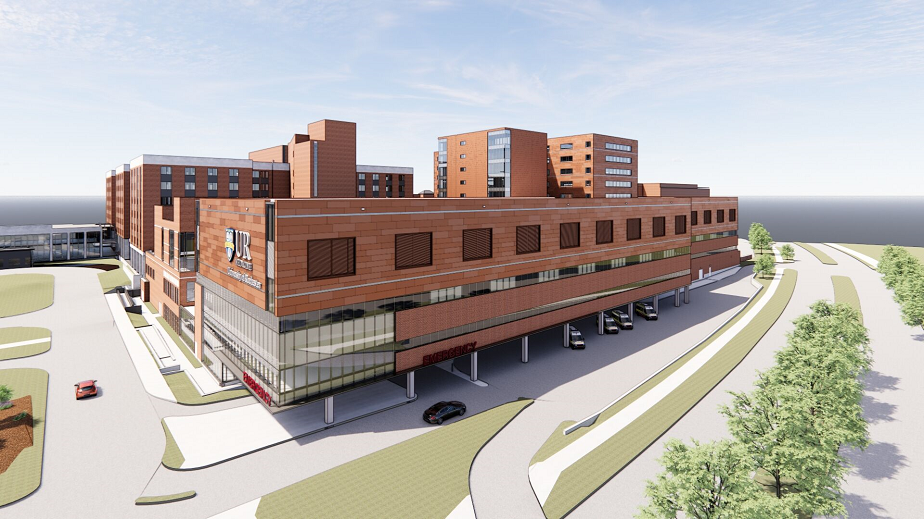 Proposed New Emergency Department Expansion scheduled for completion in 2027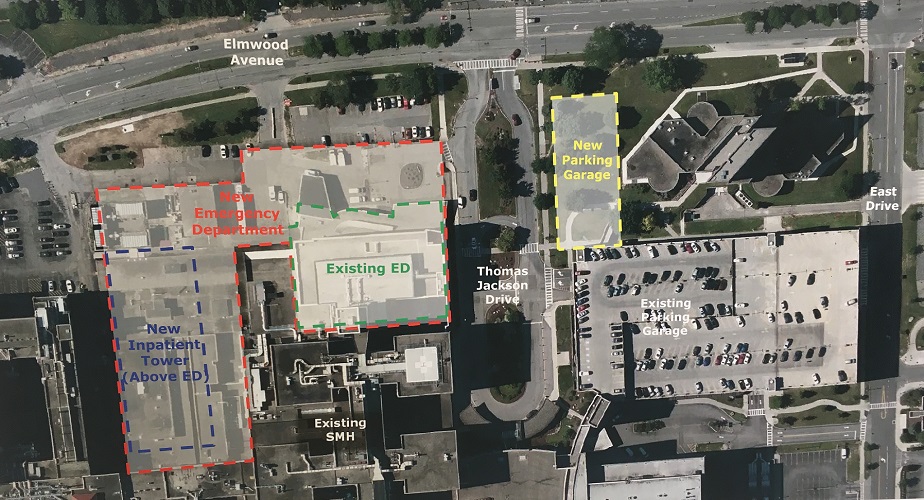 Site Plan of Emergency Department Expansion Project (March 2022)

A new project currently underway will expand the Emergency Department and add a new Patient Care Tower that has an anticipated 2027 completion date.
SMH labs were moved from G-1500 to 2100, Cardiology offices from G-1400 to G-1500 and the MRI Center from G-4500 to G-1400.
Temporary loading dock (Dockzilla) by OO Wing (G-6800)
Crittenden Boulevard non-hazardous waste and soiled linen handling
New 2-story permanent building below Lot 5 on East Drive for linen and supply receiving to Wilmot Cancer Center, Ambulatory Care Facility and Golisano Children's Hospital.
Athletic Center relocated to College Town.
References
2022 Strong Will Nearly Triple Size of ED, Offer 100+ New Private Inpatient Rooms, March 22, 2022
Patients at Strong Memorial Hospital will be examined and treated in a 175,000-square-foot emergency department, with access to more clinical space and all-private inpatient rooms, upon completion of an expansion and renovation project announced today by the University of Rochester Medical Center.
The Strong Expansion project will add more than 200 examination/treatment and patient observation stations in phases to the Strong ED and Comprehensive Psychiatric Emergency Program (CPEP). Plans also include a new 9-story inpatient bed tower scheduled for completion in 2027, which will add more ED space and floors for future diagnostic and treatment services, along with more than 100 private inpatient rooms.
Both components of the project will help to address chronic bed shortages and ED overcrowding issues that the community has faced for years, which were further highlighted during the COVID pandemic.
The tower will be built west of the current hospital entrance at 601 Elmwood Ave., on a site that has housed hospital facility departments and loading docks. There will be minimal construction impacts on current patient services, entrances and parking.
Strong Memorial Hospital's emergency department, the region's only Level 1 trauma center, handled more than 110,000 patient visits in 2021, including more than 9,000 served by the CPEP team, in spaces designed to serve annual patient volumes less than half of that demand.
An "ED North" expansion, built concurrently with the new tower, will create a larger, covered entrance to serve patients arriving by ambulance or private transportation, with a more efficient triage and registration area and larger waiting room. Additionally, an 80,000-square-foot garage will provide more parking space for patients and families.
2022 Strong Hospital Emergency Department Expansion, September 2022
2022 Construction under way for expansion at Strong Memorial Hospital, by Eriketa Cost, January 10, 2023
Construction is moving along for a major expansion at Strong Memorial Hospital. By 2027, hospital leaders say the emergency department will see a major renovation, nearly tripling in size with an additional nine-story tower.
It comes at a time when many hospitals across the state are overcrowded and understaffed.
Officials are calling it the largest project in URMC's history, with $1 million dollars of funding from the federal government for it.
The expansion includes more than 100 private inpatient rooms. Three floors of the tower are marked off for cardiovascular work.
"We're finally into the construction phase, and you can see all the work going on around us," said Dr. Michael Kamali, Chair of Emergency Medicine. "And where we are standing right now, we'll have a building around us and above us."
Kamali said the hospital has been utilizing a tent-like structure as a short-term solution to alleviate some of the crowding. While the tent idea was sparked by COVID-19, the hospital has been discussing long-term plans, years before that.
2023 "$1M funding announced for Strong Hospital emergency dept. expansion," by Sydney Havens, February 21, 2023.
Congressman Joe Morelle announced on Tuesday that $1 million in federal funding will go towards expanding the emergency department to triple its size, as well as putting in a 9-floor patient tower at the hospital.
The original emergency department, which was built in 2001 was designed for about 55,000 to 60,000 patient visits per year. Kathy Parrinello, the Chief Operating Officer at Strong Memorial Hospital says after they opened, the Genesee Hospital and St. Mary's Hospital closed. "Strong's ED saw 110,000 patients in a facility that was built for half that size," he says.
2023 "Strong Memorial Hospital secures $50M in state funding for expansion project," February 28, 2023
As hospital systems continue to be stretched thin by the aftershocks of the pandemic, Strong Memorial Hospital has been awarded $50 million to help fund their emergency room expansion project.
The hospital began construction on what they called the largest project in URMC history at the start of this year. Currently, the hospital sees more than 100,000 emergency department visitors each year, in a department built for only 60,000.
By 2027, they hope to nearly triple the size of the emergency department, adding a nine-story tower among other major renovations. Strong's Chief Operating Officer, Kathy Parrinello said all semi-private rooms will be eliminated once the project is completed because there will be enough fully private rooms.
"In the future and in this new facility we'll have adjacent but separate trauma emergency department for people who have significant injury. Then we'll have a medical critical care unit for people that suffer from strokes, cardiac arrest and those types of situations," says Parrinello.
2023 "Hospital gala raises over $100,000 for new patient tower," Rochester Business Journal, March 27, 2023
2023 300 Tons of Old Building: How Our Demolition is Surprisingly Sustainable, April 24, 2023
2023 Placing a Perimeter is Latest Step Forward for Strong Expansion Project, August 2, 2023
It's been a productive summer as the University's largest construction project moves past mass demolition and make-ready work to having a supportive perimeter for the foundation of the future ED and patient tower.
The construction team is now tackling the latest phase; support of excavation. This phase is needed because the soil deep under SMH is glacier till, pushed here by glaciers that formed the Finger Lakes. It's difficult to cut through but not strong enough to support a building of this size.
Crews have excavated nine feet of soil at the building site to create a steel wall underground using high-powered equipment to drive vertical steel sheet piles into the ground below. These heavy metal beams, or sheet piles weighing 3,000 pounds each, fit together to form a steel wall that will hold back soil and groundwater before crews dig down into what will become the basement of the new building.
Executing with Efficiency and Attention to Detail
Crews are using a state-of-the-art ABI pile driver. This is one of only a few to exist in the U.S. and has brought many benefits, including precisely placing sheet piles—a task traditionally done using a crane that relies on gravity to move the piles into place. The ABI gives the operator control over where to precisely place each pile, as well as the ability to adjust the level of force used in the process.
Because the work is happening near patient care and research areas, it is crucial to have control over activities that can produce noise or vibration. There are nine vibration monitors placed strategically around our current ED, operating rooms, medical school, and research labs. Results are monitored continuously, and the construction lead receives an immediate alarm if any monitor is triggered past a threshold that is set low to ensure vibrations won't impact lab equipment or hospital operations.
2023 Groundbreaking Ceremony Celebrates Strong Memorial Hospital Expansion Project, September 8, 2023

© 2023 Morris A. Piercer