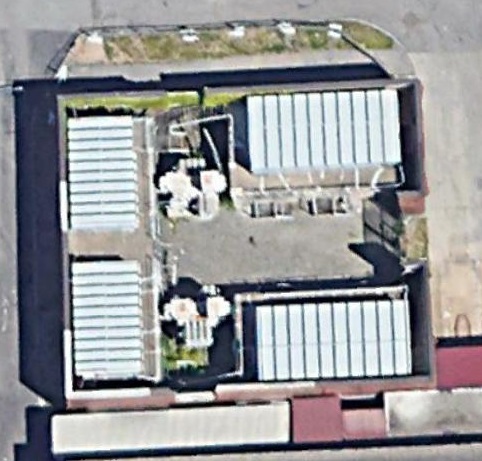 1969 Electric Substation from Google Earth

The original Medical Center buildings were supplied with 4,160 Volt electricity that was purchased from Rochester Gas & Electric Corporation and distributed through the Central Utilities Plant. The significant expansion planned in 1965 resulted in a decision to purchase and distribute electricity at 11,500 Volt, which was less expensive. A new substation was built on the north end of the Supplies and Accounts Building that was completed in 1969 to distribute 11,500 Volt power to new buildings (such as S Wing and the new Strong Memorial Hospital), while transformers were installed to reduce the voltage to 4,160 Volts to serve existing buildings. The only exception was the Medical Center Annex, which remained connected to the 4,160 Volt system from the plant.
A new Pediatric Replacement and Imaging Sciences Modernization (PRISM) building was planned to be built on the site of the substation, requiring its removal and replacement. Your correspondent suggested that a replacement substation could be built underneath Parking Lot 6 in front of OO Wing (6800), which plan was adopted and the substation built. The 2008 financial crisis resulted in the cancellation of the PRISM project and the original substation was abandoned in place. Given that the expected service life of electric switchgear, transformers and cables is 40 years. this project was worthwhile even through the reason for it evaporated.
The building was demolished in 2023 to accommodate the Emergency Department Expansion and new Patient Care Tower project. The transformers were sold to a company in India..
References
1970 "Big Power In Small Structure," University Record 10(3):1 (March 1970)
A small, million-dollar structure on Elmwood Avenue, built last year, has recently begun earning its keep as electric power substation for the UR Medical Center.
The substation, surrounded by a brick wall "for aesthetic purposes", was built to handle the increased voltage needed for an expanding Medical Center and the electrical equipment constantly being added to the hospital and laboratories.
Power for the Medical Center formerly came through the substations in the University Heating Plant. Now, however, in four, different steps, the power is being transferred to the new substation to be fed into the Medical Center.
"There is enough power in that substation to supply most of the city of Spencerport," says Fred A. Curtis. Curtis is chief university electrician and associate superintendent of the River Campus Physical Plant. He was in on the preliminary planning for the substation in mid-1967 when it was realized that the existing power supplies would not be sufficient for the planned growth of the Medical Center The electricity is routed through the Medical Center in a loop. Power leaves the substation on two sides, arches around the Medical Center in a series of switches and branchoffs, and meets in an open spot somewhere near the front of the hospital. If a failure occurs somewhere along the radial line, power can be switched on right up to each side of the trouble and only a small area will be without electricity.
The substation is expected to meet the electric needs of the Medical Center and the new Strong Memorial Hospital for several years.
According to Curtis, the hospital will never be without power longer than it takes to find trouble and fix it. The time involved in locating problems is reduced considerably by using the radial system.
The actual switching of the power from the Heating Plant substation to the new substation requires the help of about four men, but Curtis says he thinks it is important for anyone who has anything to do with the system to know as much about it as possible. He has been running kind of an informal training program on the substation and its operation for several weeks.
The River Campus is also being equipped with a radial electric system, but it is not yet completed. There will be four complete circuits on the River Campus
2007 "Expansion Plan for Peds," Strong Kids News, Fall 2007
The entire project, dubbed the PRISM project for Pediatric Replacement and Imaging Sciences Modernization,includes two floors in the tower for Imaging Sciences (including a space dedicated to children), a floor of private adult rooms and the renovation of the current fourth floor pediatric rooms into adult rooms. The expansion, which adds a total of 123adult beds to the hospital,forms one of the cornerstones of the Medical Center's proposed five-year strategic plan. Because of the severity of Strong Memorial's space needs, URMC leaders have begun the application process for the PRISM even while working with the University trustees for final approval of the project and the full strategic plan. "The need for this facility is compelling. Additional capacity allows us to provide more appropriate healthcare, and take advantage of Rochester's opportunity to build its new economy on the pillars of higher education, healthcare and biotechnology," said University president Joel Seligman. [The only part of this project that was completed was the new electric substation.]
2009 "UR Medical Center puts expansion plans on hold," Democrat and Chronicle, March 20, 2009, Page 4!.
Pediatric Replacement and Imaging Sciences Modernization (PRISM) building
© 2021 Morris A. Pierce