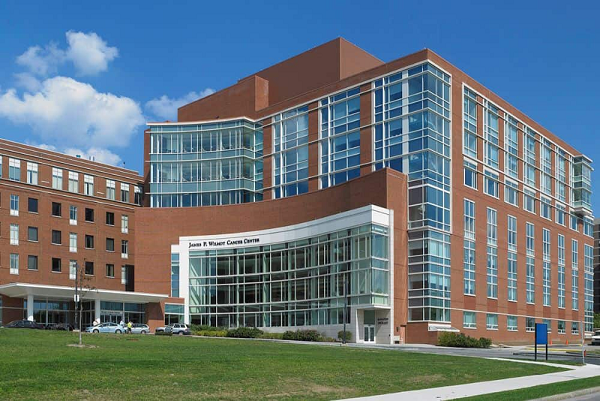 James P. Wilmot Cancer Center after completion of vertical expansion in 2012.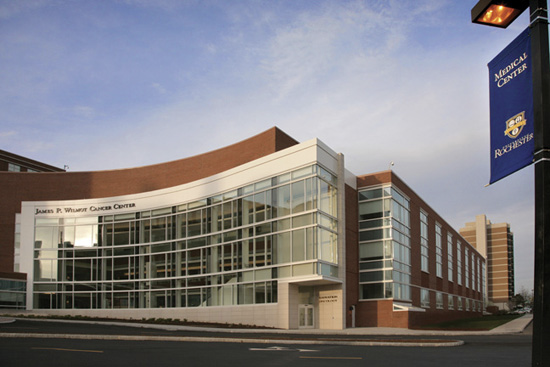 Wilmot Cancer Center in 2008

The Wilmot Cancer Center moved into a new building that opened on May 19, 2008, replacing the 1980 Cancer Center. A four-story vertical expansion was completed in July 2012.

References
2008 "New Wilmot Cancer Center offers expanded care, research for cures," Currents 36(9), May 12, 2008
The University and the Medical Center will celebrate the expansion of cancer care and research as it dedicates the new James P. Wilmot Cancer Center on Thursday, May 15. The Center introduces leading-edge technology, greater access to multidisciplinary care, a new model for breast care, and more opportunities to receive tomorrow's therapies today.
The new facility, which will welcome patients starting Monday, May 19, consolidates all outpatient cancer care and translational research programs into a single location.
"We stand firmly in our dedication to providing the best cancer care and advancing the understanding of this disease through novel research," says President Seligman.
The opening is a major step in the Wilmot Cancer Center's aggressive, $65 million plan for expansion and recruitment and is one of the cornerstones of the Medical Center's strategic plan.
"Cancer is a common condition—so much so that each of us has been impacted in some way. The expertise available at the Cancer Center and the Medical Center makes them a destination for people seeking specialized care," says Bradford Berk, senior vice president for health sciences and CEO of the Medical Center.
Wilmot doctors see 10,000 patients each year, delivering more than 19,000 infusions and 40,000 radiation treatments. The center has seen double-digit increases in volume annually, emphasizing the need for expanded facilities.
"Patient care is our number one priority and addressing the space shortage was critical," says Richard Fisher, director of the Wilmot Cancer Center. "In addition to expanding patient care, we're building strong programs in research to take a leadership role at the national level."
The new center is designed to provide patients with a high degree of comfort and convenience in a healing environment surrounded by natural light, beautiful artwork, and compassionate caregivers. Its three-story, glass-enclosed atrium, named for the family of James P. Wilmot, serves as a focal point of the center, inside and out.
The new facility nearly doubles the center's clinical space for medical oncology and infusion/chemotherapy treatments and affords patients greater opportunities for privacy with individual televisions and wireless access during sometimes lengthy infusions.
The Radiation Oncology Department has added two linear accelerators—for a total of five—expanding access to the various forms of therapeutic radiation treatments and bringing next-generation technology to the community. The center has invested more than $10 million to bring the latest equipment to Rochester, including the new Trilogy, a powerful image-guided system that delivers high-dose radiation to even the smallest tumors.
For people with breast problems, the new Comprehensive Breast Care Center brings a multidisciplinary team together to provide imaging tests, biopsies, pathology readings, and a final diagnosis within 24 hours. The shortened time span is possible because the Wilmot Center can offer a group approach to every step from diagnosis to treatment, with specialists in a single location.
The new center's second floor houses administrative and clinical research offices and also features the state-of-the-art conference and education center for grand rounds and teleconferences. This area, the Excellus BlueCross BlueShield Clinical Translational Research Floor, was named in recognition of a $6 million gift to the center's comprehensive campaign.
The John W. Rowe, M.D., Translational Research Floor, located on the Center's third floor, is home to translational research scientists and clinicians who will collaborate in a 40,000-square-foot laboratory to bring discoveries from the bench to the bedside quickly. Rowe, a 1970 alumnus of the School of Medicine and Dentistry, donated $5 million to the effort.
The center's leaders have raised more than $38 million toward a $42.5 million comprehensive campaign goal. Generous donations have been received from the Wilmot family, Henry and Dorothy Hansen, Harold and Joan Feinbloom, and the Davenport-Hatch Foundation, in addition to the gifts from Rowe and Excellus BlueCross BlueShield.
2012 "Wilmot Cancer Center to Celebrate Completion of Expansion Project," July 11, 2012
Allows for relocation of inpatient oncology units to the cancer center; upgraded patient amenities
An exciting expansion project that further elevates the James P. Wilmot Cancer Center's status as the leading provider of cancer care and research in the region and raises the bar even higher on the quality of patient care comes to its conclusion tomorrow as donors, faculty members and staff celebrate the completion of the four story vertical expansion. An open house for University of Rochester Medical Center employees and cancer center patients and families will be held from 6:30 a.m. – 4:30 p.m. and a special unveiling event will be held for donors and community physicians from 6:30 – 8:30 p.m.
The $60.1 million expansion project, which began in late 2010, adds more than 100,000 square feet to the state-of-the-art cancer center, built in 2008. It allows for the relocation of two inpatient units from Strong Memorial Hospital to the Wilmot Cancer Center – the Samuel E. Durand Blood and Marrow Transplant unit (the second largest program of its kind in New York State), and the adult Hematology/Oncology unit, which will expand from 23 to 30 beds. With the addition of the inpatient units, the Wilmot Cancer Center in essence becomes a comprehensive cancer hospital, offering a seamless, full continuum of inpatient and outpatient cancer care.
"This is a very exciting time for the Wilmot Cancer Center and the patients we serve," said Jonathan Friedberg, M.D ., acting director of the cancer center. "By combining our inpatient and outpatient services, we are moving to a model employed by some of the very best cancer centers in the nation and creating efficiencies and conveniences that will lead to an even higher standard of care for our patients. The environment we've created through an abundance of natural light, sizeable rooms and the many amenities we've built in after listening to input from patients on the existing units for the past several years will no doubt have a very positive impact on their care."
The new inpatient floors feature breathtaking views of the greater Rochester region and vastly upgraded patient and family amenities, in keeping with the University of Rochester Medical Center's commitment to a model of Patient and Family Centered Care .
Patients will be transferred to the new units beginning Monday, July 23. Crews are also finalizing construction of an area for Imaging equipment within the new space, providing additional convenience and efficiency for patients and staff. That work is scheduled to be completed later this year.

© 2021 Morris A. Pierce