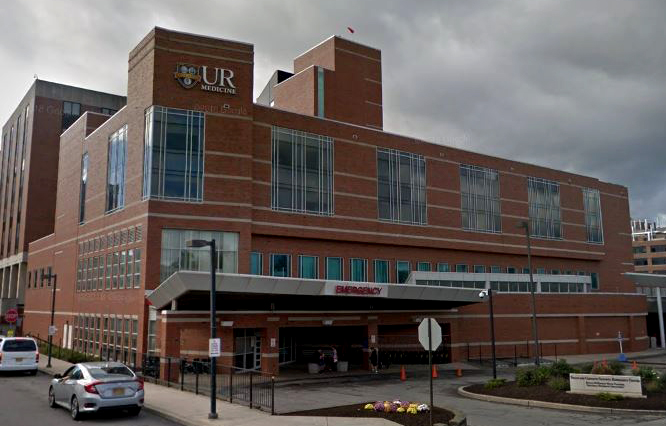 Emergency Department after vertical expansion completed.

Temporary surge structures were placed outside the ED to increase capacity during the time of Covid.




March 2020
October 2020
The new Frank and Caroline Gannett Emergency Center was opened to patients on March 14, 2001 and included a new heliport on top of an adjacent hospital wing. Two floors were added in 2004 to house the Pediatric Intensive Care Unit, in-hospital Ronald McDonald House and an Burn/Adult Trauma Unit. The foundation for the 2001 building was value-engineered and only supported two additional floors, rather than the six that would otherwise be allowed.
The 2001 emergency department replaced a facility that opened in May 1976 at the then-new Strong Memorial Hospital. That facility in turn had replaced the original emergency rooms in the 1926 Strong Memorial Hospital.
A helipad was installed outside the 1976 Emergency Department in 1992 and a new helipad was built on top of the 1600 Tower of Strong Memorial Hospital in 2001, with dedicated elevators to bring patients to the Emergency Department.
A new project currently getting started will expand the emergency department by demolishing several structures, including the autoclave, substation, S&A building, staff house and gymnasium to accommodate new tower(s) along the north side of the medical center. Additional details will be posted as they become available.
References
1967 "New Quarters for Emergency Department," University Record 7(10):1 (November 1967)
1975 To each his farthest star: The University of Rochester Medical Center -1925-1975, edited by Edward C. Atwater and John Romano.
Page 325: In the Emergency Department house staff responsibility has become more complex. Rather than serving as a straightforward acute-care facility the Emergency Department has become an extension of clinic and community practice, so that patients come with minor problems, especially nights and weekends. In 1967, the Emergency Department was expanded and made more functional, with the addition of cubicles for nonacute patients to complement the holding beds and the traditional acute area. Conference rooms were added for the new Emergency Department Clerkship, where all fourth-year students are required to spend a month in the Emergency Department. The numbers of house staff assigned to the Emergency Department have expanded, and they have the additional unique experience of being responsible for teaching large numbers of students who are based in the facility. In July 1963, house staff as well as senior staff were acutely tested shortly after the arrival of new interns, when a commercial airplane crashed at Monroe County Airport and 36 patients arrived at the Strong Memorial Hospital Emergency Department. All of the injured who reached the Hospital lived, and television sets given by a grateful company, many of whose employees were on the flight, still are present on the Hospital patient-floor porches.
Page 485: Strong in fifty years has had but one disaster test. In July 1963 a Mohawk plane crashed in bad weather at Monroe County Airport. Despite the failure of the airport to flash any warning to the hospital, Strong was quickly in action with all of its facilities, taking care of 30 victims dumped into emergency and corridors. Grateful for the costly services rendered several injured employees, IBM sent the Hospital $10,000.
1976 "Gannett Center Dedicated at SMH," Rochester Review 34(4):35 (Summer 1976)
The Strong Memorial Hospital dedicated its new Frank and Caroline Gannett Emergency Center on May 1 in the main dining room of the hospital. The new Center went into full operation on May 4. Speakers at the dedication were Mrs. Frank E. Gannett; John A. Scott, president of the Frank E. Gannett Newspaper Foundation, Inc., and Dr. John H. Morton, clinical director of the Emergency Center. President Sproull presided at the ceremonies. Gifts of $750,000 from the Gannett Foundation and $500,000 from Mrs. Gannett provided the necessary funds to cover the cost of completing the Center. Only the shell for the emergency unit was completed at the time the new Strong Memorial Hospital was constructed; development of the Center was made possible with the Gannett gifts. Maximum efficiency in the use of floor space has been achieved in the new Center, which occupies 22,000 square feet in contrast to 24,000 square feet in the old emergency area.
1986 "Police helicopter crashes," Democrat and Chronicle, April 12, 1986, Page B1.
A state police helicopter with a medical team aboard hit a tree limb yesterday and crashed during takeoff from Strong Memorial Hospital. No one was injured in the 10:50 a.m. accident near a loading dock on the Elmwood Avenue side of the hospital, said hospital spokesman Milton Lederman. The helicopter was to fly a doctor and two nurses to F.F. Thompson Memorial Hospital in Canandaigua to pick up a sick baby and return to Strong. Dr. Steven Benn and nurses Sharon Cohen and Jean Kirby boarded the helicopter, piloted by state police Sgt Kenneth Hunt The helicopter lifted off from its concrete pad and veered toward a tree, "as if there was a sudden wind gust," Lederman said. He said it was about 20 or 30 feet above the ground when its rotor struck a tree limb, snapping a blade. The Federal Aviation Administration is investigating the crash.
1992 "Lack of Helipad at hospital still an issue," Democrat and Chronicle, February 20, 1986, Page 6B. | correction |
Air ambulance can't set down at Strong center.
1992 "Copters now can land at Strong," Democrat and Chronicle, June 25, 1992, Page 8B.
Temporary helipad boon to patients. Strong announced it has arranged a temporary landing site at the hospital while it continues work on a permanent helipad. The landing area is a grassy field on Crittenden Boulevard, about 100 yards from the hospital's Emergency Department entrance.
2001 "Strong opens New ER today," Democrat and Chronicle, March 6, 2001, Page 1B.
Strong Memorial Hospital plans to cut the ribbon today on its new $22 million emergency department.
But the new facility won't be in use until next week. Hospital officials plan to move staff and equipment to the new facility next Tuesday and Wednesday. That night, they will keep both facilities open and gradually transfer patients depending on their severity, said Dr. Frank Zwemer Jr., vice chairman for clinical affairs for the department of emergency medicine.
The ribbon will be cut at 2 p.m. today on the new Frank and Caroline Gannett Emergency Center, which at 55,000 square feet is triple the size of the current trauma unit.
The three-story building, located next to the hospital's Elmwood Avenue entrance, includes new pediatric and psychiatric areas, an elevator tower and a rooftop helipad. It also expands Strong's urgent care services and an area where patients are kept for observation.
Roughly 200 patients a day visit Strong's emergency room.
Strong will now be able to treat 59 patients at a time, compared with 40 in the old unit. Each room is designed for one person, but is large enough to add another bed.
Modeled after the University of Cincinnati's emergency department, Strong's facility features a main adult acute care area with a central nurse's station surrounded by 25 rooms. The station is elevated, and surrounded by glass so nurses and physicians can see into each room, yet walls divide patient rooms.
The trauma bay contains large rooms for critically ill patients, plus enough room for emergency operations.
Two of the rooms contain digital X-ray machines, and there is also a new CT scanner, so the department will no longer have to share either with the rest of the hospital.
The new department also features a separate, mural-lined pediatric unit and waiting area for the roughly 27,000 children it serves annually.
A $1 million donation from the Ronald McDonald House enabled the hospital to add a child-life worker, plus physician and nurse education opportunities, said Dr. Julius Goepp, director of the pediatric emergency department.
"It's just breathtaking in size and in its child-friendliness," Goepp said.
Basement space in the new building will be used to expand the hospital's operating rooms, said Kathleen Parrinello, Strong's chief operating officer.
The new emergency facility is a vast improvement, Parrinello said. In the current facility, space is so limited that patients are often treated in the hallway. Equipment, supplies and gurneys clog walkways. Patients who walk in and those who arrive by ambulance must use the same door.
"We're very excited to move away from that," Parrinello said.
Planning began after a hospital committee deemed that a new emergency department was badly needed in 1994, Parrinello said. In 1998, the hospital received state approval to build a new facility and broke ground in May 1999.
The hospital financed 90 percent of the project through bonds, while donors provided the other 10 percent, she said.
2001 "New Emergency Department opens," Currents 29(6), March 19, 2001
Patients needing emergency care at Strong Memorial Hospital now have access to the region's largest and most modern emergency facility.
The new, 55,000-square-foot Frank and Caroline Gannett Emergency Center at Strong began admitting patients last Wednesday.
The facility, more than three times larger than Strong's previous emergency department, was unveiled March 6 after nearly two years of construction.
Designed to improve efficiency in a facility that handles more than 75,000 visits per year, the center has been designated by the New York State Department of Health as a Level One Regional Trauma Center.
"This new ED represents a vast improvement over our old facility in virtually every way," said Kathleen Parrinello, chief operating officer for Strong Memorial Hospital. "It has enough space to accommodate the number of patients who rely on us for care, it is built with the dignity and comfort of our patients in mind, and it is designed to aid us in providing rapid care."
Modeled after the emergency department at the University of Cincinnati, a medical center that is nationally respected for its emergency and trauma services, the Gannett Emergency Center features distinct treatment areas for adults and children, as well as for those who require urgent care for minor injuries.
The Gannett Emergency Center is located on the north side of the Medical Center campus, adjacent to the main hospital entrance and across from the ramp garage.
2004 "Strong Memorial boosted with $21 million addition," Democrat and Chronicle, December 2, 2004, Page 1 | Part 2 |
Pediatric Intensive Care Unit; in-hospital Ronald McDonald House; Burn/Adult Trauma Unit
2020 Triage tents prepared at local hospitals, Rochester First, March 19, 2020
Local hospitals are working to create space to handle the anticipated wave of patients due to the COVID-19 outbreak.
The University of Rochester has set up triage tents to evaluate patients. The tents are outside Strong Memorial Hospital and Highland Hospital. These tents are not for testing, but rather to evaluate and treat patients who present mild to moderate respiratory symptoms.
"This is a tent to provide some additional room, and addition pathway for patients to receive health care and to get into the facility," Dr. Michael Kamali said of the University of Rochester Medical Center, Department of Emergency Medicine.
2021 Surge tent project provides extra space for Strong Memorial Hospital ER, January 5, 2021
LeChase managed construction and performed foundation and concrete work for a new surge tent adjacent to the emergency department at UR Medicine Strong Memorial Hospital. A pre-engineered structure, the fully insulated 40-foot by 80-foot tent provides 28 patient bays and support spaces for staff.
UR Medicine started to look at expansion space for its emergency department in April, anticipating the impacts of COVID. LeChase engaged in May, working with Dwyer Architectural under a design-build contract. Construction began in mid-August. Crews spent four weeks on sitework and foundation, followed by four weeks of erecting and fitting out the structure. The facility was complete by mid-October.
"It was definitely an atypical project from unique aspects of the tent structure itself – which a lot of our workers had never seen before ­– to working in the parking lot of an active emergency department," said Steve Corletta, LeChase project executive. "Completing the project in such a critical area of the hospital really proved the power of teamwork."
2022 Strong Will Nearly Triple Size of ED, Offer 100+ New Private Inpatient Rooms, March 22, 2022
Patients at Strong Memorial Hospital will be examined and treated in a 175,000-square-foot emergency department, with access to more clinical space and all-private inpatient rooms, upon completion of an expansion and renovation project announced today by the University of Rochester Medical Center.
The Strong Expansion project will add more than 200 examination/treatment and patient observation stations in phases to the Strong ED and Comprehensive Psychiatric Emergency Program (CPEP). Plans also include a new 9-story inpatient bed tower scheduled for completion in 2027, which will add more ED space and floors for future diagnostic and treatment services, along with more than 100 private inpatient rooms.
Both components of the project will help to address chronic bed shortages and ED overcrowding issues that the community has faced for years, which were further highlighted during the COVID pandemic.
The tower will be built west of the current hospital entrance at 601 Elmwood Ave., on a site that has housed hospital facility departments and loading docks. There will be minimal construction impacts on current patient services, entrances and parking.
Strong Memorial Hospital's emergency department, the region's only Level 1 trauma center, handled more than 110,000 patient visits in 2021, including more than 9,000 served by the CPEP team, in spaces designed to serve annual patient volumes less than half of that demand.
An "ED North" expansion, built concurrently with the new tower, will create a larger, covered entrance to serve patients arriving by ambulance or private transportation, with a more efficient triage and registration area and larger waiting room. Additionally, an 80,000-square-foot garage will provide more parking space for patients and families.
2022 Construction under way for expansion at Strong Memorial Hospital, by Eriketa Cost, January 10, 2023

© 2021 Morris A. Pierce