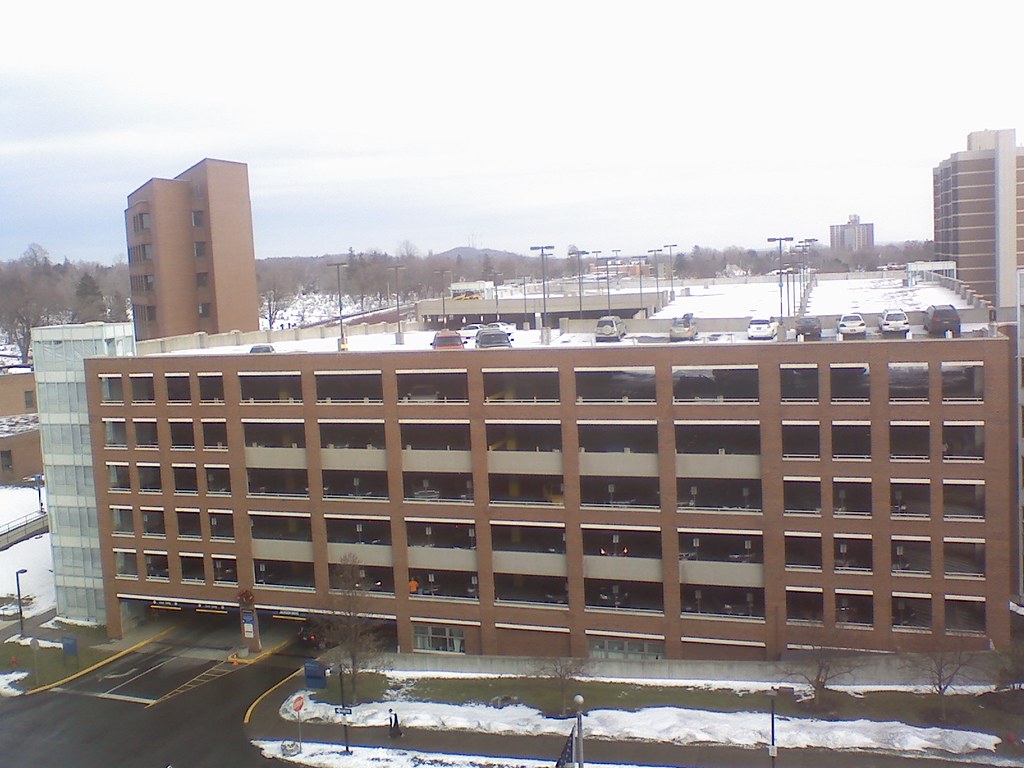 Medical Center Parking Garage

Earlier Parking Structures






1930 by Animal House.
1950 behind Municipal Hospital

1963 west of Helen Wood Hall.

Several covered wooden faculty parking spaces were built between the Athletic Center and Animal House, but these were displaced by the new O Wing in 1950 and moved to the east side of the Staff House. Some garages were also best west of Helen Wood Hall.
Although a parking garage was proposed on River Campus in 1965, the University's first one was built next to Strong Hospital and with a capacity of more than 1,200 cars on September 1, 1995.
Employee ID cards were used to swipe in and out of the garage, the first example of this technology being used for parking at the University. It was expanded to other Medical Center parking lots until being replaced by a new electronic parking system in 2008 that used AVI tags.
Another 600 spaces were added in an expansion that was completed in early 2005.
The College Town development that opened in 2014 included a parking garage with 1,560 parking spaces, of which 948 were reserved for University employees.
An additional parking garage is planned just west of the Eastman Dental Center as a part of the new Emergency Department Expansion project. This will include a pedestrian bridge linking the garage to the Emergency Department.
References
1965 "$80 Million Expansion Projected by U. of R.," Democrat and Chronicle, April 30, 1965, Page 1. | Part 2 |
Included two proposed parking structures for River Campus.
1975 To each his farthest star: The University of Rochester Medical Center -1925-1975, edited by Edward C. Atwater and John Romano.
Page 60: Parking problems were not acute. The two dozen cars that appeared each day all remained within 50 yards of the rear door. The area was paved with cinders from the University power plant. After two years a wooden garage was built with individual stalls to accommodate a dozen cars; later the number of stalls doubled twice. Names of faculty members renting these stalls appeared on each. The stalls reminded one of the sheds at country churches in which the carriage horses champed oats and exchanged flies while their owners worshipped. In 1925 not all faculty members had cars, and rare indeed were the house staffers and medical students who had them.
2003 "Parking Garage Expansion Continues," Currents, July 7, 2003
Once completed, the garage extension will add approximately 600 additional patient and visitor parking spaces. The garage extension is scheduled to be completed by February 2004.
2008 "New Parking System Being Installed at Medical Center," Vital Signs, 8/6/08
A state-of-the-art electronic parking system is expected to go live in Lots A, 4 and EDC the week of Aug. 18, and will be phased into Lots 1, 2, 3, MRB and the Garage by the end of September.
The high-tech system relies on Automatic Vehicle Identification (AVI) technology, which works similar to an E-ZPass. A slim AVI tag – resembling a thick credit card, and affixed to the inside windshield near the rearview mirror – links to an individual's parking account and transmits a unique radio frequency identification that grants access to lots when the car pulls within 25 feet of the new high-speed gates. In time, electronic message boards added to lot entrances will display the number of available spaces in realtime, and immediately re-direct drivers should their assigned lot fill up (the AVI tags will temporarily grant access to an assigned back-up lot).
Letters will be mailed to all permit holders two weeks before their lot is switched to the new system. Parking representatives will staff tables in each lot to hand out tags (the first is free; additional or replacement tags will cost $20 each). Permit stickers must still be displayed.
2022 Redesign of Lot 3 Parking
© 2021 Morris A. Pierce