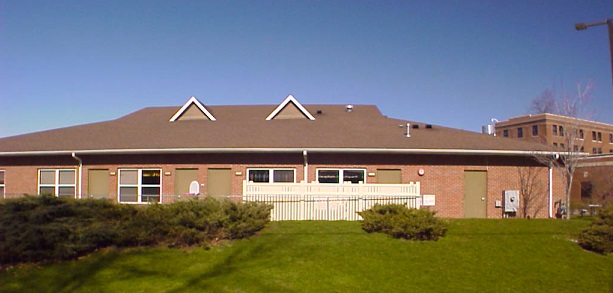 Child Care Center

The Medical Center built a child care center at 55 Castleton, just south of Helen Wood Hall, that opened in September 1998. The facility was originally operated Childtime and is now managed by KinderCare. The facility can accept 120 children up to age 6.
References
1998 "Medical Center day care facility planned," Currents 26(3), February 7, 1998
Plans have been approved for the construction of a child care facility on the Medical Center campus.
The center will be operated by Childtime Inc., a national child care firm headquartered in Detroit. Anticipated to open September 1, the facility will be constructed behind Helen Wood Hall and will accommodate 132 children.
The construction plans follow the recommendations of a committee appointed by Jay Stein, senior vice president and vice provost for health affairs, to look at the child care needs of the community. The committee included representatives from the School of Medicine and Dentistry, the School of Nursing, nursing practice, Strong Memorial Hospital, and Office of Human Resources. The committee recommended the development of a child care facility to support the Medical Center's efforts to recruit and retain high-quality staff and faculty.
The center will be open to all members of the University community with first preference given to employees of the Medical Center. Enrollment will be on a first-come, first-served basis, beginning in mid-March. Specific information regarding enrollment will be available at informational sessions conducted by Childtime during the week of February 23. Announcements on those sessions will be mailed to all employees.
2000 "Check out Kindercare," Currents 28(11), June 13, 2000.
Kindercare, which recently partnered with the University to manage the on-site child-care center, will hold an enrollment fair in the House of Six Nations Cafeteria at the Medical Center on Wednesday, June 14, from 10 a.m. to 2 p.m. Stop by to learn more about Kindercare and its learning-based child-care curriculum.
2011 "Children's School now enrolling," Currents 39(4), December 20, 2011.
The Children's School at URMC, a nationally accredited and New York State–licensed child-care center, is currently accepting enrollments for all ages (infants through six years of age).
© 2021 Morris A. Pierce