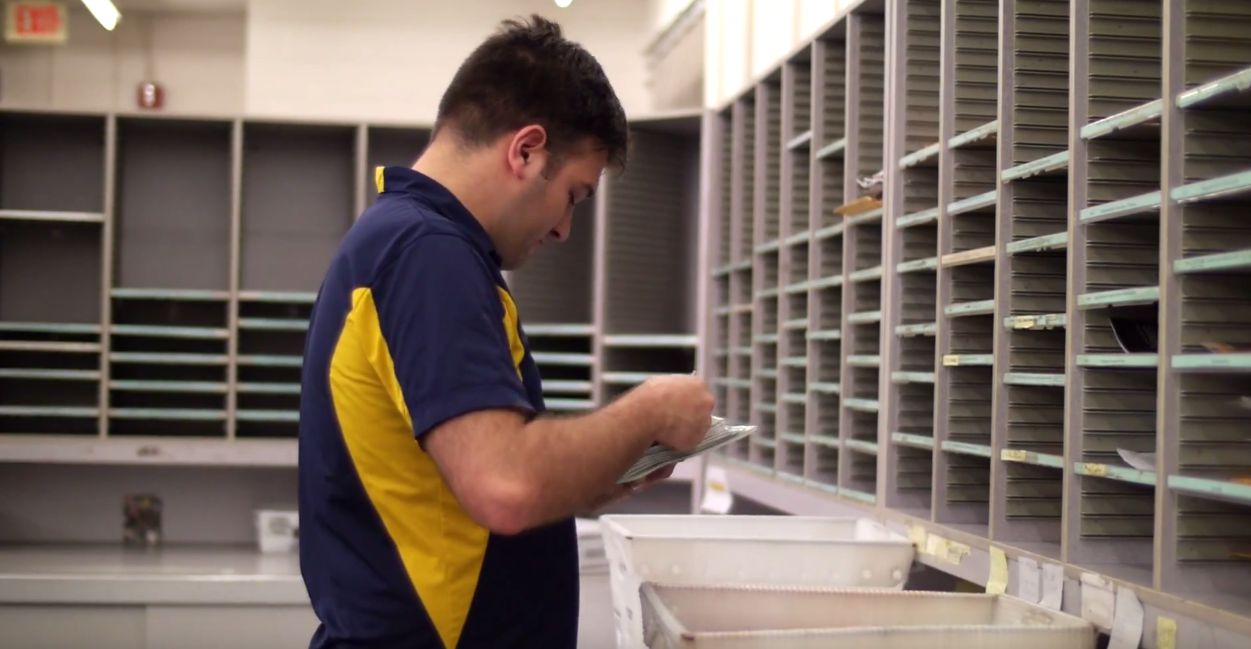 To deliver maximum value service to our customers and exceed their expectations by providing postal expertise and competitively distributing information and materials.

— Amy Mirabella, Manager
email: amy.mirabella@rochester.edu
phone: (585) 275-5208

University Mail Services (UMS) plays an integral role in how the University communicates through the efforts of our three main operations: The Mail Operations Center (Bulk Mail and Meter Mail); the Campus Mail Center, and University Courier Services. As a viable support system for the University community, our dedicated staff works diligently to understand our customers' goals and will do everything possible to meet or exceed their expectations.

University Mail Services is part of Central Administration and a division of University Facilities and Services (UF&S) Support Operations. The main mail processing facility is located at 1510 Mt Hope Avenue where all incoming USPS mail for zip code 14627 (the River Campus) is received.
Online Access for Mail Services Charges
University departments will now have access to view and print their monthly departmental mailing and courier delivery charges. As of May 1, 2013, charges for ledger reconciliation will be available after the 3rd of each month online at Mail Service Charges. Users sign-in as 'guest_mail' and use 'mail' as the password. Clicking on the JobActivityByDate option and entering the 6-digit account number (without dashes) along with required year and month ledger dates, will generate the report. The report may be exported to a PDF, Excel or Word document by selecting the preferred icon. The document may then be saved and/or printed for your use.
Business Reply Mail (BRM)
The University maintains a First Class Business Permit to provide a cost-effective means for University departments to receive mail responses for surveys, information requests, etc.
Specially formatted pre-addressed cards or envelopes are provided at no cost to the respondent so they can easily return the request.
Departments will pay for the number of pieces returned at the applicable first class rate of postage plus an applicable USPS accounting fee. The mail is then routed to your department after it is received. BRM is very effective when a high number of responses are necessary.
Due to strict regulations from the USPS, we encourage you to contact us to approve and print your business reply envelopes.
Please see Quality Business Reply Mail (QBRM)
Quality Business Reply Mail Program
Action is needed to ensure University departments receive best rates on Business Reply Mail Pieces.
University departments can realize deep handling discounts by making a simple design change to their Business Reply Mail pieces. All departments that are using or planning on using Business Reply Mail for postage paid correspondence mail should have their reply pieces (envelopes, postcards, etc.) reclassified and qualified by the US Postal Service to adhere to the new Quality Business Reply Mail (QBRM) standards. By doing so, departments will avoid a handling cost of $.766 per each returned item. Currently, departments who have not transitioned to the QBRM program, are paying a USPS processing fee of $.083 per returned item (plus first-class postage). Effective January 26, 2014, customers who have transitioned to the QBRM program, the processing fee will be $.064 ($.008 increase) per returned item (plus first-class postage).
Please note that only letter-size pieces and postcards can receive a discounted handling fee. Flat-size pieces and parcels incur a handling fee of $.766 per returned item.
Reclassifying your Business Reply Mail to the QBRM program is an uncomplicated process that simply involves redesigning your reply piece by replacing the POSTNET barcode with an Intelligent Mail Barcode (IMB). (See examples below.) It would be advantageous for those departments who utilize Business Reply Mail to contact their respective printers to ensure their pieces meet these new standards.
All departments are welcome to contact University Mail Services (UMS) for assistance on transitioning to the QBRM program as well as on other mail pieces through their design specialists in order to provide the best costs. For more information, please contact Lisa Kinnaird at 275-3974 or Jerrod Jopson at 275-9799 or email UMS-ADMIS@facilities.rochester.edu.
In need of Interoffice Envelopes or Supplies?
University Mail Services keeps an abundant supply of reusable paperclips, binder clips, and rubber bands. So before you order a new supply consider replenishing with used ones. For supplies or interoffice envelopes, please call x5-5684 or email Karen Uschold at kuschold@facilities.rochester.edu with your request and we'll quickly deliver them through intramural mail.
Ink Jet and Toner Cartridge Recycling
To recycle your used ink jet and toner cartridges, you can mail them to University Mail Services at Box 270001. Please place cartridges in original or replacement packaging. For more information on the University's recycling efforts: https://www.facilities.rochester.edu/so/recycling

Quarterly Newsletters
Global Events Affecting Mail Delivery
The following is a list of recent or upcoming global events that may affect your mail delivery around the world.