University Facilities and Services
SUPPORT OPERATIONS
Horticulture and Grounds: Snow Removal
Box 270500 • Rochester, New York • 14627-0345
Sign Up for Weather Related Notifications
University Facilities sends notifications by email to those members of the University who wish to receive them. For directions to join this Listserve to receive email notifications, visit our notifications page.
Winter Walking Safety
Winter walking falls often result in bruises, sprains, and broken bones. The University employs more than 20,000 staff, most of whom walk some distance to the building in which they work. The departments of Environmental Health & Safety and Horticulture & Grounds have joined forces to provide tips on winter walking safety and posters you can print and post in your work area.
The Snow Removal Process
Any snowfall that is less than 6 inches is considered a routine occurrence. The weather forecast is carefully monitored and when any snowfall is predicted, staffing for snow removal is determined and early start-times are scheduled the day before. Grounds regularly monitors the National Weather Service and local radar.
The Medical Center Grounds Crew is staffed from 2:00 a.m.to midnight each day, Monday through Friday, from December 1 to April 1. The contractor servicing the River Campus Grounds moves to a 24-hour-a-day coverage when the weather dictates.
The roadways to provide emergency access and Handicapped Areas are serviced first.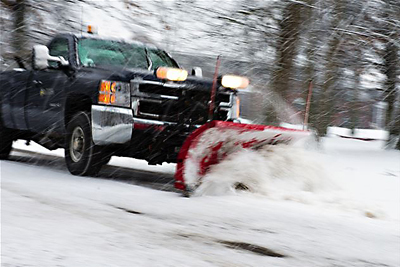 Parking and Grounds Staff are available to assist Handicapped individuals with special snow removal needs. Handicapped individuals should email Dan Schied or call him at extension 3-5815 to inform him of work schedules so he can be sure that these areas are accessible.
Sidewalks and roadways are plowed concurrently with the Parking Lots.
The normal River Campus plowing cycle is 6 hours. That is, it takes 6 hours to make a pass through each roadway and parking lot at least once. The Medical Center is plowed continuously during snows and the cycle will vary depending on the rate of snowfall.
The immediate University properties--including the River Campus, the Medical Center, and the South Campus through Whipple Park, but not including the parking garage or satellite properties—comprise well over 6 million square feet of roadways, parking lots, and sidewalks.
One inch of snow over the mentioned areas would fill the football-field area of Fauver Stadium with a solid cube 11.26 feet tall, or fill 10-cubic-yard dump trucks parked bumper to bumper stretching 9.25 miles.
Eight inches of snow between midnight and 8 a.m. would correspond to a football-field-size cube 90-plus feet tall, or fill 10-cubic-yard dump trucks parked bumper to bumper stretching 74 miles.
For additional information about snow removal at the University, check out this
Currents article.
TO REPORT SNOW STORM RELATED CONCERNS, CALL THE FACILITIES SNOW REMOVAL HOTLINE AT EXTENSION 5-0000